<![if !vml]>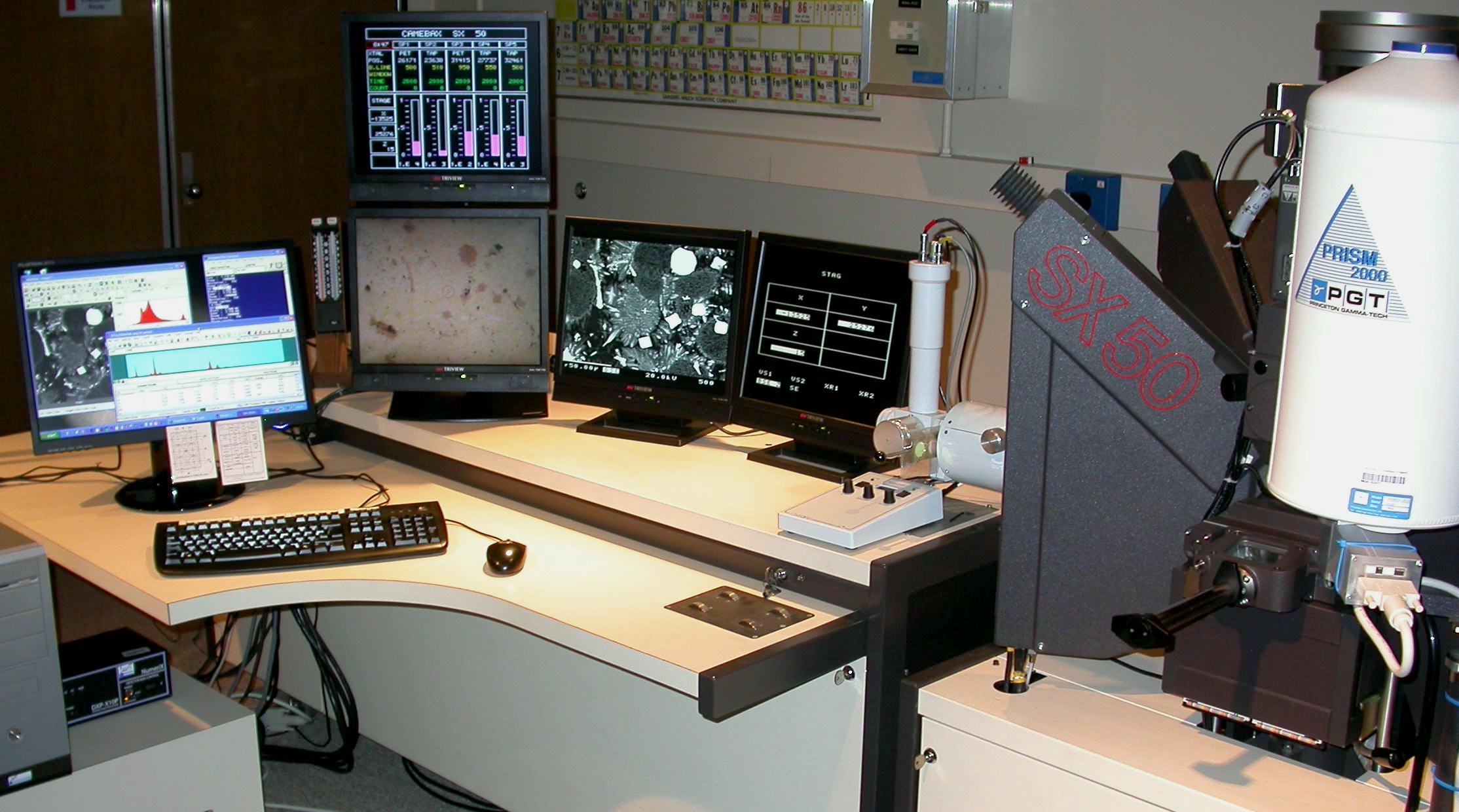 <![endif]>(This and related pages are best viewed in full-screen format)
The University of Oklahoma
Electron Microprobe Laboratory
Facility for microanalysis of solid materials
100 East Boyd Street, Sarkeys Energy Center room E106
Norman, Oklahoma 73019-1009
This facility is available to students, faculty, and industry professionals for research that requires rapid, non-destructive microanalysis of solid samples. The facility is based upon a fully computer-automated Cameca SX50 electron probe micro-analyzer that is equipped with five wavelength-dispersive x-ray spectrometers, integrated energy-dispersive x-ray analyzer, standard SEM imaging capabilities, and cathodoluminescence detector. A full-time staff is available to conduct analyses and for consultation or instruction.
Electron microbeam techniques are extremely VERSATILE, permitting:
Full quantitative analysis of all elements with atomic numbers

³

5 (boron)

Qualitative to semi-quantitative analysis of major to minor elements in seconds

Analysis of particles or areas down to ~1-5

m

m in diameter, in samples up to several cm2

Imaging capabilities including secondary electron, backscattered electron, x-ray intensity, absorbed current, and cathodoluminescence signals that are acquired and stored in digital format

On-line and off-line data reduction, statistical analysis, spreadsheets, graphics, and qualitative or quantitative image analysis
Applications:
Essentially any solid material that is stable under high vacuum can be analyzed and/or imaged with the microprobe. These include, but are not limited to: (1) minerals (rocks), salts, and synthetic crystals; (2) glasses and ceramics; (3) bone and shells; (4) coal and dried organic tissues; (5) plastics; (6) metals and their corrosion products; and (7)  electronic components.  Thus, the electron microprobe can be applied to studies involving the composition, morphology, or abundance and distribution of phases within a wide variety of solid materials.
For more information on the OU EMPL and its capabilities, see:
For more information on applications and scheduling, contact:
David London, Ph.D., Laboratory Director and Professor of Geology: Sarkeys Energy Center, Room 810; ph: (405) 325-3253, fax: (405) 325-3140; email: dlondon@ou.edu
George B. Morgan VI, Ph.D., Laboratory Operator and Adjunct Associate Professor of Geology: Sarkeys Energy Center, Room E110; ph: (405) 325-2642, fax: (405) 325-3140; email: gmorgan@ou.edu
For more information on the SAMx Microanalysis System, see: SAMx.COM
For more information on Electron Microscopy, see these related cites:
Go to: the The University of Oklahoma Home Page
Go to:  The University of Oklahoma School of Geology and Geophysics Home Page